Five Ways to Support Public Schools Today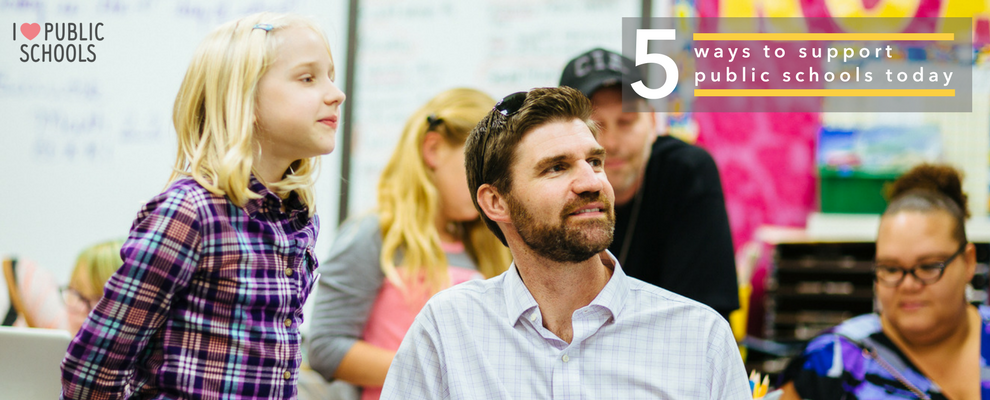 A few weeks ago on our #ILovePublicSchools Day, we reached close to three million people online and we heard thousands of stories that demonstrate strong support for public education. Our state's point of view rang loud and true: Nebraska loves public schools.
The #ILovePublicSchools hashtag started as a way to express why there's strong support for public education. Now, find ways to define what that means and what to do about it. Here are five steps to show your support for public schools today.

PAY ATTENTION
Stay informed on local – and national – coverage about public education. Whether it's to provide context to understand, ​"where my tax dollars go," to show how public schools support students and families, or to illustrate a glimpse of day-to-day realities of public schools, stories from Nebraska journalists help us stay informed on what's happening in our state and connect Nebraska to the bigger story of public education in the country.



ENGAGE IN CONVERSATION
Talk to people who work in public schools. Ask them about the success they've experienced and the challenges they face. Tell others what you learn.
SPREAD THE WORD
Do you know of something awesome going on at a public school in your community? Tell your friends, family, colleagues, neighbors – and anyone else who will listen. Raise awareness about the good things happening in our public schools every day and why it's so important to support our students in public schools.
Follow our hashtag #ILovePublicSchools

UNDERSTAND
Recognize what issues are impacting schools in Nebraska. Learn how public schools are already closing the achievement gap and raising the bar.
Specifically, understand what's happening in your neighborhood district. Board meetings are open to the public and that's where you come in.
HOST A FILM SCREENING
You can organize your own film screening with the community groups that matter to you. If you're passionate about supporting public schools, share what you've learned with others and encourage them to watch and get involved in our public schools.

SHARE YOUR SKILLS
Whether you're a designer, chef, construction manager, marketing professional, homemaker, skateboarder or lawyer, we all have skills that we could share with a school in our community. Make a call to a school and learn how you can help.
SHARE YOUR TIME
Whether you can drop by once a week, once a month, or once in a while, ask your local school what they could with more hands on deck. You could spend time tutoring a student, or simply tour a school in your neighborhood.